Woodland Hills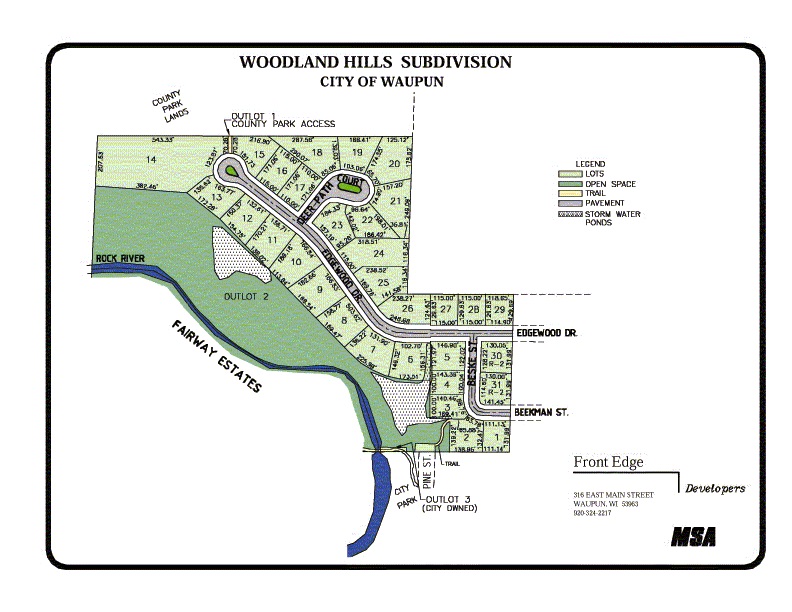 Front Edge Pricing Philosophy
Front Edge has worked hard to provide choice lots in the City of Waupun at a discounted price. It is one of the ways we can "give something back" to the residents of Waupun. A "normal" developer prices their lots in order to recover their investment when 2/3rds of their lots are sold. Front Edge has pushed the investment recovery period so that we can offer our lots at a discounted price. We will not recover our investment until ¾ of all lots are sold. We have extended a discount of approximately 10% to all lot purchasers.
Example:
Woodland Hills Lot #17
"Normal" Developers Sales Price $60,390
Front Edge Sales Price $54,900
That means an immediate savings to you!
Lot

Width
Depth
Sq. Ft.
Acres
Possible
Exposure
Price

1

111±

138±

14690

0.337

none

$46,900

2

SOLD
SOLD
SOLD
SOLD
SOLD
SOLD

3

SOLD
SOLD
SOLD
SOLD
SOLD
SOLD

4

SOLD

SOLD

SOLD

SOLD

SOLD

SOLD

5

SOLD

SOLD

SOLD

SOLD

SOLD

SOLD

6

SOLD

SOLD

SOLD

SOLD

SOLD

SOLD

7

SOLD

SOLD

SOLD

SOLD

SOLD

SOLD

8

SOLD

SOLD

SOLD

SOLD

SOLD

SOLD

9

SOLD
SOLD
SOLD
SOLD
SOLD
SOLD

10

SOLD
SOLD
SOLD
SOLD
SOLD
SOLD

11

SOLD
SOLD
SOLD
SOLD
SOLD
SOLD

12

SOLD
SOLD
SOLD
SOLD
SOLD
SOLD

13

SOLD
SOLD
SOLD
SOLD
SOLD
SOLD

14

SOLD
SOLD
SOLD
SOLD
SOLD
SOLD

15

SOLD
SOLD
SOLD
SOLD
SOLD
SOLD

16

115±

171±

19672

0.452

none

$54,900

17

110±

171±

18817

0.432

none

$54,900

18

SOLD
SOLD
SOLD
SOLD
SOLD
SOLD

19

SOLD

SOLD

SOLD

SOLD

SOLD

SOLD

20

SOLD
SOLD
SOLD
SOLD
SOLD
SOLD

21

75±

170±

28623

0.657

none

$59,900

22

SOLD

SOLD

SOLD

SOLD

SOLD

SOLD

23

184±

142±

20806

0.478

none

$55,900

24

SOLD

SOLD

SOLD

SOLD

SOLD

SOLD

25

170±

184±

25816

0.593

none

PENDING

26

SOLD

SOLD

SOLD

SOLD

SOLD

SOLD

27

115±

129±

14908

0.342

none

$46,900

28

SOLD
SOLD
SOLD
SOLD
SOLD
SOLD

29

SOLD

SOLD

SOLD

SOLD

SOLD

SOLD

30

SOLD

SOLD

SOLD

SOLD

SOLD

SOLD

31

SOLD

SOLD

SOLD

SOLD

SOLD

SOLD
Prices current as of June 21, 2022

Prices subject to change at anytime